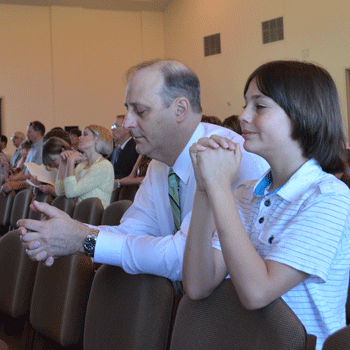 When we encounter God we are forever changed. Whether it is Moses beaming as he comes down the mountain (Exodus 34:29), a couple of confused guys not realizing who they are talking to on the road (Luke 24:13-34) or an old woman with creaking knees kneeling at the altar rail for thousandth Sunday in a row, when we listen, God's speaks and changes our perspective.
Prayer both individually and with a group are invaluable parts of sustaining our relationship with God and they are how we find the wisdom and courage it takes to live as Christians in the world.
Sunday Worship: Our Sunday worship services are 8 a.m. (traditional) and 10:30 p.m. Learn more about our services.
What to expect: New to the Episcopal church, or just to St. Aidan's? Find out more about what to wear, the order of the service, and who participates in what. 
Baptisms, Weddings, and Funerals: We'd be honored to participate in all aspects of your spiritual life, especially important milestones. Find out more about what we offer.
Prayer Request: If you would like prayerful support for yourself or a loved one, please fill out this form.
Pastoral Care: One of the great privileges in ministry is to be present with those in need and those who are struggling, find out how we can help you.