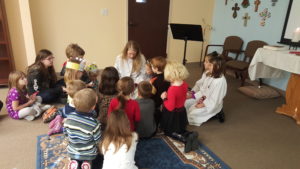 We value children as a precious gift from God that we as a church, partnered with children and their families, work together to model God's love so that we may grow in faith and respond to God's love with open hearts and minds.
They are not only our future, but also our present. The children of Saint Aidan's are from 4 years old to 5th grade. We provide opportunities for the foundation of their faith lives to be built, and an age appropriate worship service for them to take part in. Older children have opportunities in our Youth activities.
The children are part of a community at Saint Aidan's filled with role models and other children to help each other along the way.
Children's Chapel
Every Sunday a Children's Chapel sermon is posted to our facebook page at 6:30 a.m. This is usually an object lesson that makes the readings easier for children to understand and fully grasp the meanings.
Storytime with Taylor
We also have Storytime with Taylor every Wednesday at 2:30 p.m. on our Facebook page. Taylor reads a different children's story each week, and the video stays up so it can be watched at a later point in time as well.
Skippy's Corner
Every Friday on Facebook, Taylor teaches her nephew, Skippy about God's love work in the world through Skippy's misadventures! He always has great jokes and loves getting new pictures to see and learn about!