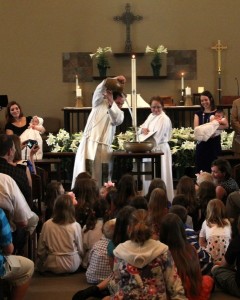 We're honored to be a part of our parishoners' daily spiritual lives, and we especially appreciate the opportunity to engage with you for important milestones.
• Baptisms: It is always so joyous to bring a new person into their life in Christ. Since one of the purposes of Baptism is bringing a person into the community of faith all of our Baptisms are done as part of our regular worship as a community. Rev. Les offers a two session class on the meaning of baptism to help people/families prepare for baptism. If you have questions about baptism or would like to schedule one please contact the Rev. Les.
• Weddings: There are few promises we make in life as sacred as the vows of marriage. Couples being married at St. Aidan's are asked to go through premarital counseling. This both allows us to make sure couples have all the skills you need to have a happy and successful marriage and it allows the couple to form a relationship with the clergy person preforming their marriage. For more information, fees, etc. please contact the Rev. Les.
• Funerals: The clergy of St. Aidan's is always honored to stand with those in grief. If you have lost a loved one or if you want to pre-plan your own funeral please contact the Rev. Les.