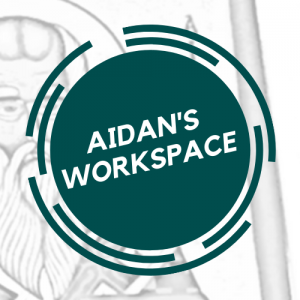 Connect. Collaborate. Create.
Join Saint Aidan's new Cypress-area coworking collaborative, Aidan's Workspace. Designed in the spirit of our generous namesake, Saint Aidan, Aidan's Workspace offers coworking with a soul—a place where you can be productive AND experience community, kindness, and spirituality.
At this time we are meeting online only on Wednesdays from 1 pm until 2 pm. Please email info@aidanschurch.org to request an invitation link.
What Services Do You Offer Coworkers?
Our innovative new coworking space features comfy seating areas, complimentary WiFi, electrical outlets, work tables and chairs, access to a kitchen, and plenty of space to spread out and get your work done. A friendly host will always be on-site to make sure you have everything you need.
Not a religious person? No problem! We welcome everyone. We do open with an optional prayer and/or Bible study every work session if you're interested. There's also a prayer space and a chaplain available upon request.
Want to work close to home and commune with friendly people? You'll love working in our peaceful environment!
Why Aidan's Workspace?
It's a unique time in the professional world because there is a fundamental shift in how people work. The Cypress area is experiencing an explosion in the number of solopreneurs, telecommuters, and people who keep a virtual office. But with more and more people working from home, it's easy to become more isolated as a community. While working from home offers freedom from distractions, it also prevents people from enjoying the benefits of collaboration and community. At Aidan's Workspace, we believe that a community of working people can be a powerful and positive thing.
When Is It?
Join us Wednesdays between 1 and 2 PM. As demand increases, our Aidan's Workspace hours will expand.
Where Is It?
Now online only please email the link below so we can send you an invitation. info@aidanschurch.org
Is There A Cost?
There is no cost for joining us, but we encourage you to be generous with our church as it helps us pay for the services we offer and upkeep of the workspace area. If you do wish to give a donation, the simplest way to give is to donate via the Tithe.ly app. Simply download and follow the instructions. Need a donation recommendation? A good guideline is 10% of your average hourly compensation.
Who Is Welcome?
All who want to work and experience the benefits of community are welcome! No need to be a Christian or religious.
What If I Need To Focus?
Need to focus? No problem. We offer you a card that you can flip over based on whether you want to chat or focus.
What Extra Features Do You Offer Guests?
Based on demand, we are regularly expanding our services. For now, for a nominal donation, we offer guests these extra features:
Light printing capabilities.

The ability to have a work mailing address.

Private conference room or workspace. To request a space in advance, email

info@aidanschurch.org

Small, quiet spaces where you can take work calls.
Have Questions?
Email us at info@aidanschurch.org .